Ultrasound  induced cavitation is a therapy which  causes selective adipose cell reduction without injury to skin, vessels, nerves, or connective tissue.
HOW IT WORKS
ultrasound treatment  between 20khz to 40khz was reported to induce the formation of multiple small pores in the adipocytes, allowing dispersion of triglycerides into interstitial space and lymphatic vessels. It is conceivable that triglycerides can then be absorbed and metabolized by endogenous lipases to glycerol and free fatty acids and incorporated in the total lipoprotein pool.
HOW IS CAVITATION  FORMED IN FAT CELLS
Cavitation is the fast production and possible subsequent collapse of millions of microscopic bubbles (or cavities) in a liquid. Ultrasound , as all sound waves, are an alternation of high and low frequency waves. This alternation may cause cavitation. During the low frequency phase, these bubbles grow, whereas in the high frequency phase they are compressed and  therefore implode. Imploding, they cause a temperature rise with pressures and heat exchange which take place in microsecond time fractions. In the fat tissue, cavitation can contribute, together with the other typical effects of cavitation (thermal, mechanical and chemical) to modify cell membranes with the formation of micro-pores which helps the lipids to pour out.
Low frequency ultrasound waves  between 20 to 40 khz  have the following main effects on fat tissues:
Increase of triglycerides fluidity
Increase of adipocytes cell membrane permeability.
Leak of fat acids from the fat cells.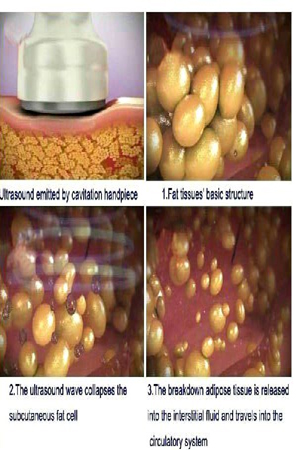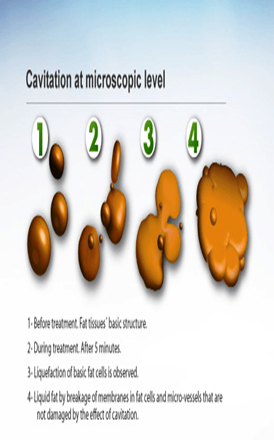 AREAS WHERE CAVITATION THERAPY CAN BE DONE
TUMMY AND FLANKS ( LOVE HANDLES)
HIPS ( BUTTOCKS)
SADDLE BAGS ( SIDES OF THIGHS )
INNER THGHS
KNEE ROLLS
BRA FOLDS
ARMS
UNDERSTANDING THE THERAPY
THIS THERAPY MAINLY TARGETS SUBCUTANEOUS FAT CELLS AND HELPS A PERSON TO SHAPE UP .THIS IS NOT A WEIGHT LOSS THERAPY  
TO SEE RESULTS A MINIMUM OF 2 SESSIONS PER WEEK  ARE REQUIRED FOR A PEROID OF 6 WEEKS .SO TOTAL 12 SESSIONS PER AREA
EACH AREA( MEASURED 15 x 15 CM)  IS TREATED FOR 15 MINS.ALSO THERAPY TIME DEPENDS ON THE THICKNESS OF THE FAT LAYER .
AT ONE TIME MULTIPLE AREAS  CAN BE CHOSEN
CAN BE COMBINED WITH OTHER LIPOLYSIS THERAPIES FOR BETTER RESULTS
SIDE EFFECTS
Other than a little redness around the localised target areas Cavitation is completely safe with limited side-effects. Cavitation does not affect the blood vessels, nerves or connective tissue.
1. RESEARCH STUDIES1.  REDUCTION OF SUBCUTANEOUS ADIPOSE TISSUE USING A NOVEL VACUUM-CAVITATION TECHNOLOGY (SMILJANIC JASMINKA, MD)
Cavitation Research Results: " Eight (8) female patients aged 35-64 years were involved in the study… All patients experienced a notable reduction in the fat thickness within the treatment site. The mean reduction in circumference after a single treatment was 2938+0,623 cm. The ultrasound measurement results showed the mean subcutaneous fat thickness reduction of 2,96+2,01mm… No significant changes in cholesterol, triglycerides, and liver markers was observed. Side effects were limited to slight erythema that persisted up to 1 hour after treatment." Original Cavitation research journal
2. STRUCTURAL CHANGES OF FAT TISSUE AFTER NONASPIRATIVE ULTRASONIC HYDROLIPOCLASY (FÚLVIO B GODOY)
"This makes the already swollen adipocytes become more susceptible to the action of ultrasonic waves; and, due to the phenomenon of cavitation, "explode," releasing fat from within. These will be removed from the site via the lymphatic system."
"The Wilcoxon test was conducted, and a difference was found between the treated side and the corresponding control side on the number of viable cells. The treated side showed a smaller number of viable cells compared to the control side both immediately after treatment and 3 days later. Also occurring 3 days after treatment was the migration of lymphoid cells and fibroblasts, which shows the local inflammatory process and conjunctive neoformation. Soon after treatment there was fluid accumulation within adipocytes." Original Cavitation research journal
MANY OTHER RESEARCH STUDIES AND EVIDENCES CAN BE FOUND ON VARIOUS AESTHETIC AND INTERNATIONAL JOURNAL AND MEDICAL WEBSITES .
  RESULTS